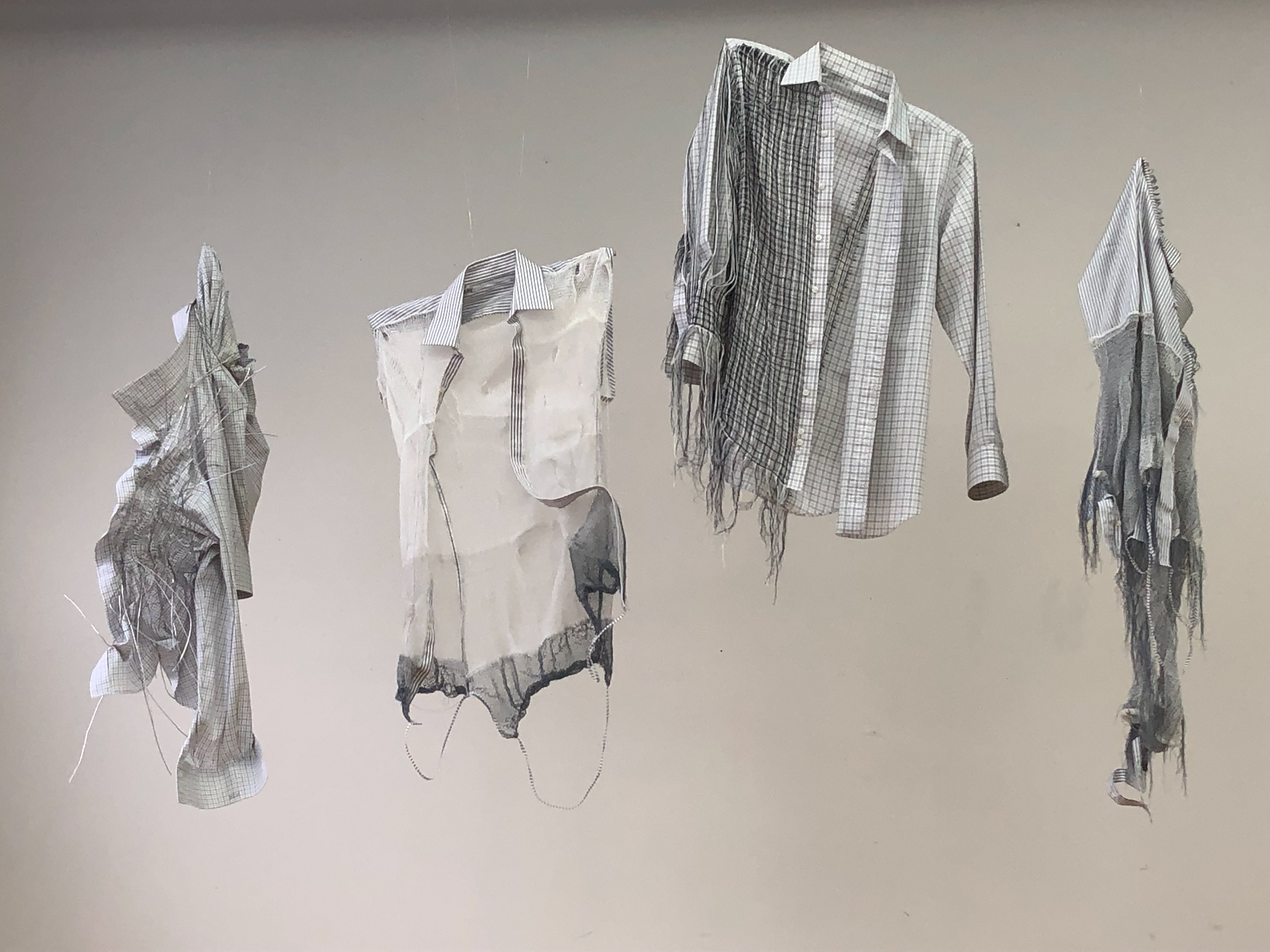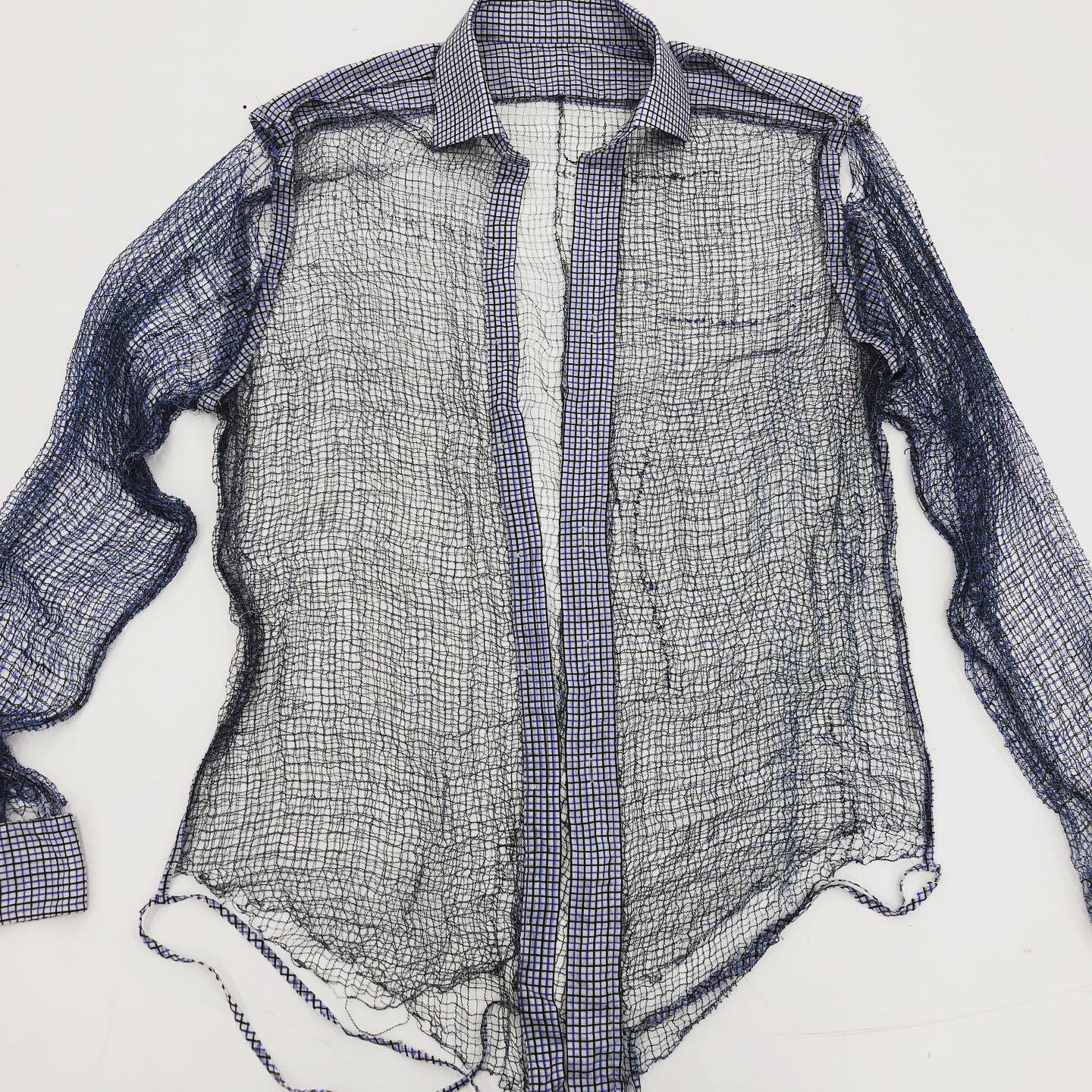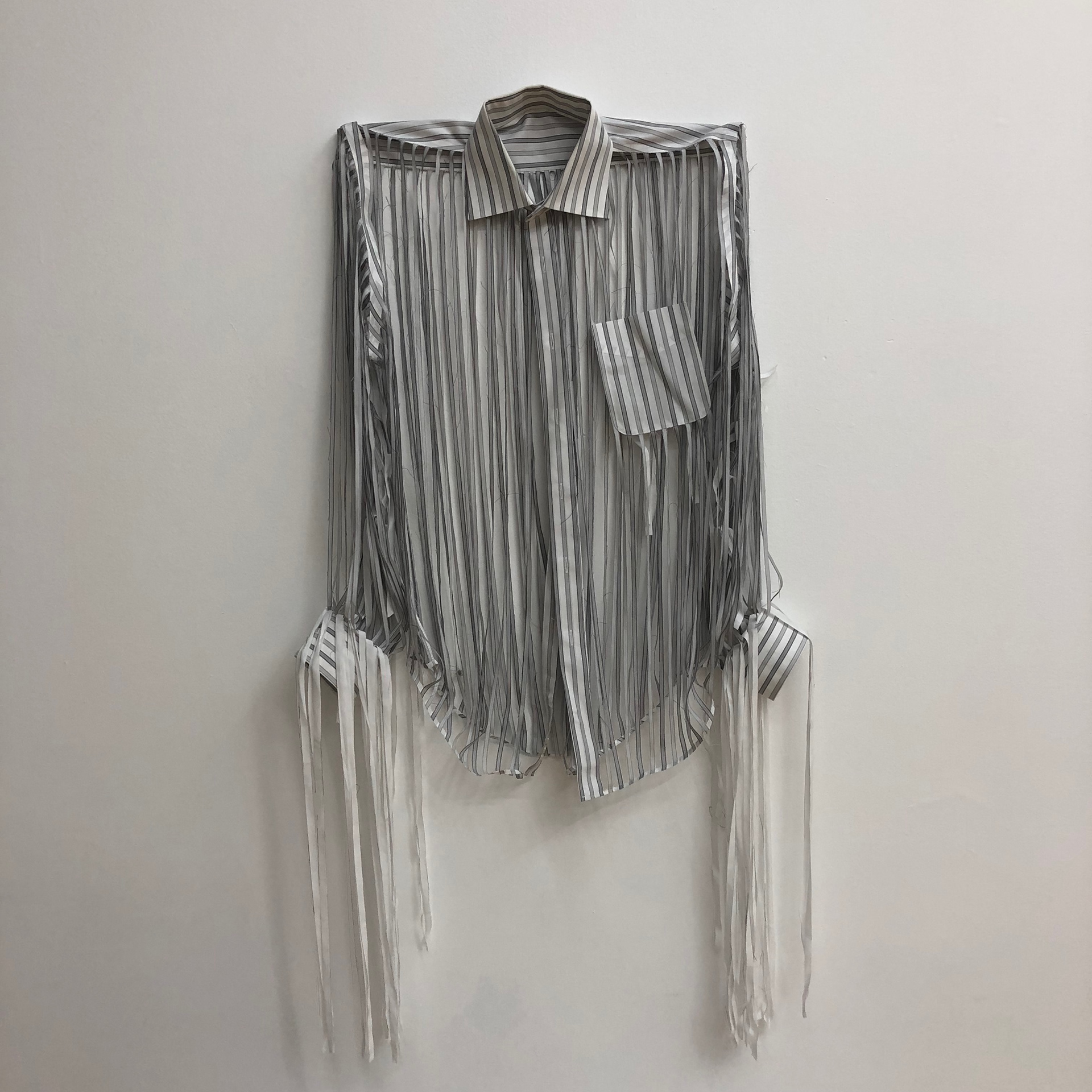 One Shirt at a Time
, Found, salvaged and repurposed mixed media and intention, 2019
Artist Statement:
I am an artist of opportunity, open to possibilities. I collect materials, experiment with techniques, pursue curiosities and look for connections, intersections and overlaps. It's a spinning Venn diagram that suddenly locks into place when all of the input mixes with an idea, resulting in the emergence of creative expression. 
My current body of work is an examination and deconstruction of patriarchal power in menswear. I often wonder about power. I view menswear as symbolic of power - that maybe somehow the power is inherent in the clothing/costume/uniform. I wonder if the wearer brings the power or if the power is imbued in the clothing. I wonder if power is given or if it must be taken. Is it finite? Power is about influence, access, security, confidence, strength, control, self awareness. It's authenticity without doubt or fear.
Power is individual and institutional. Power is problematic because it is, in general, unevenly distributed. I wonder if it needs to be. If power dynamics/relationships are constructed can't they be deconstructed? I wonder what would happen if everyone was able to access their power. I think the power is hiding in the seams and edges of the shirts because they hold all the labor and energy of the making. I am interested in finding vestiges of power in menswear, extracting it and reimagining/reforming/ redistributing it. I am dismantling the patriarchy one shirt at a time.
Artist Bio:
Winnie van der Rijn is a multi-disciplinary artist of opportunity– collecting materials, experimenting with techniques and pursuing her curiosities. Her art practice includes textiles, sculpture, collage and collaboration (which she considers its own art form). She plays well with others. Winnie actively exhibits her work throughout the United States.
A life long learner, Winnie graduated from the University of California, Berkeley in 1989 with a BA in Sociology. She has studied printmaking, sculpture, metalsmithing and Marxist theory. In addition, Winnie has explored weaving, machine knitting, bookmaking, altars, exploding picture boxes, automata, shoe making, millinery, sewing, fusing, stamping, metal weaving, resin, riveting, precious metal clay and mixed media. She is wildly curious about how things are made.
Winnie, a seventh generation Californian, is currently based in New York City. She has a studio in Brooklyn and, along with her husband, is redefining what it means to be an empty nester.