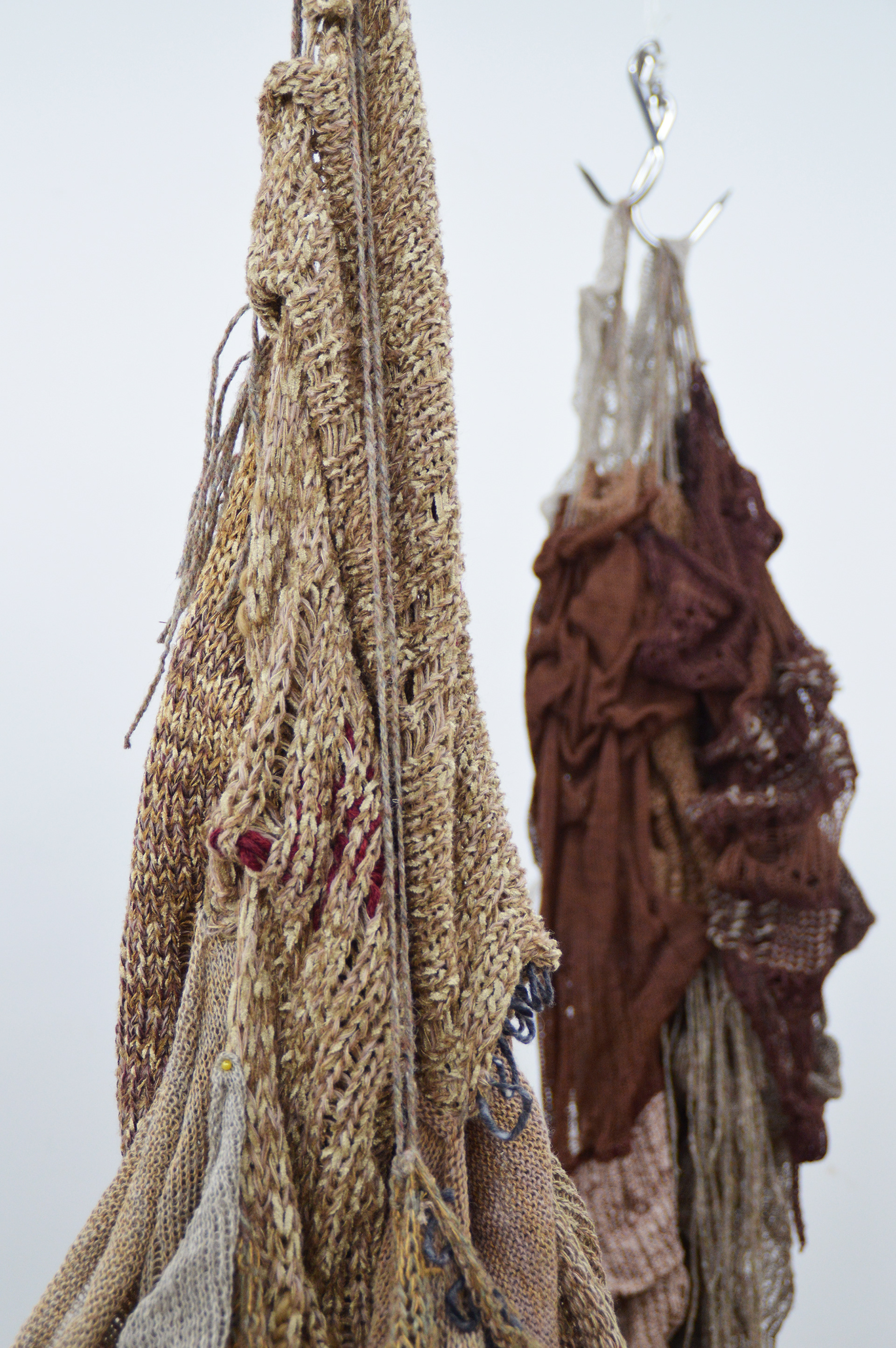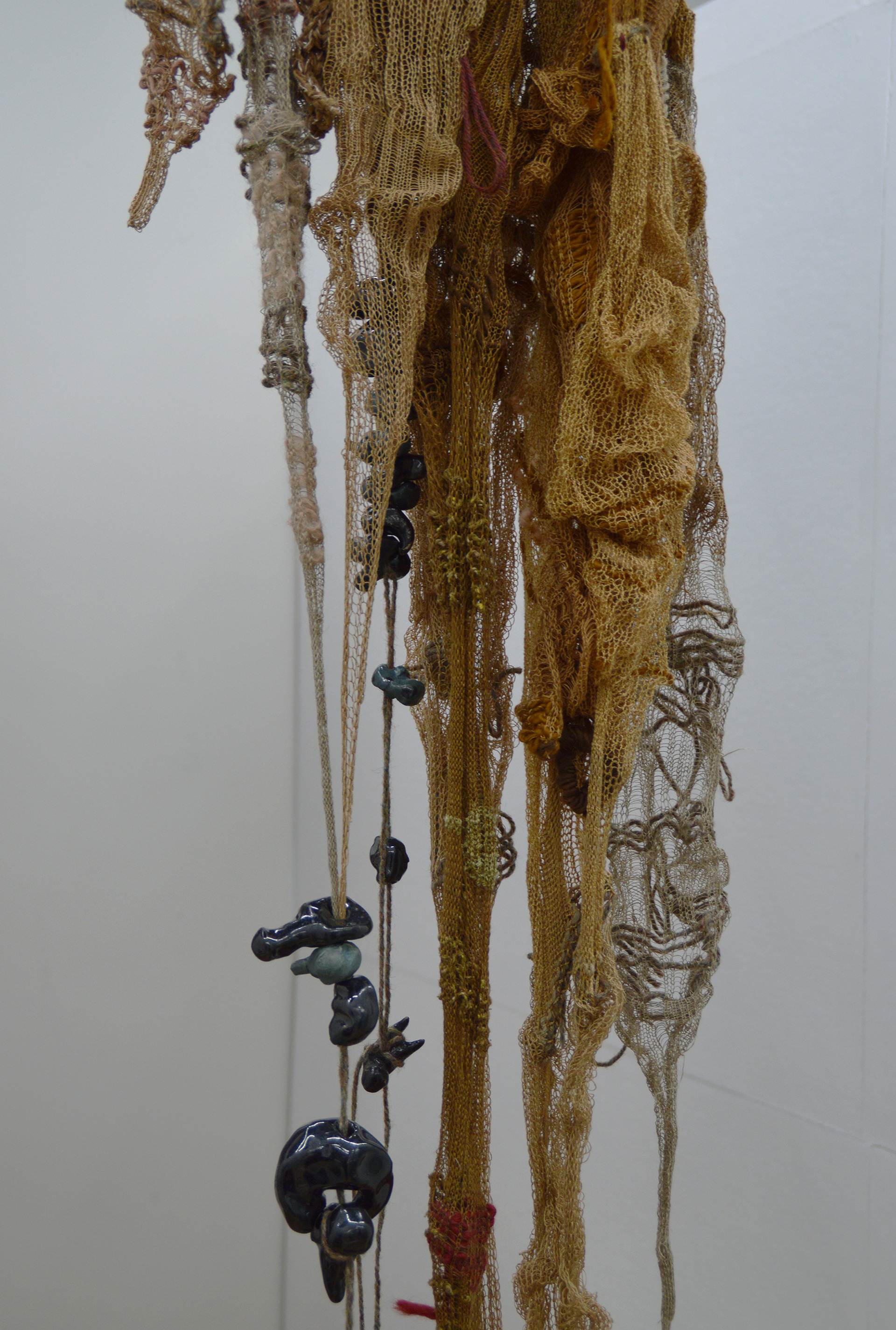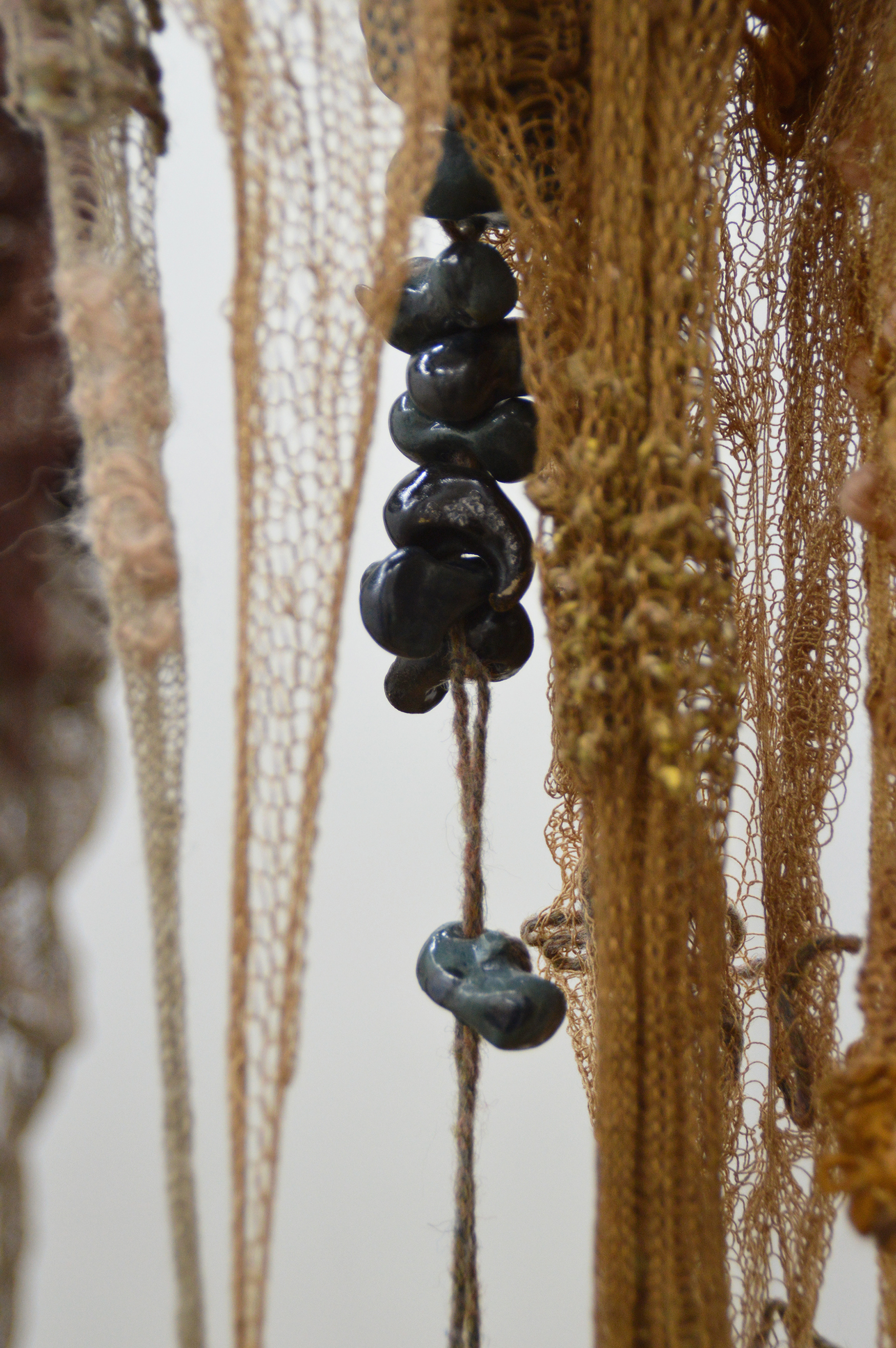 Cuerpas en plaga, 
Knitted and dyed fibers and ceramic,
 2019
Artist Statement:
As an interdisciplinary feminist artist/artisan/"huesera", I work around problems faced by Peruvian and Latin American womxn in their daily lives; Problems related to androcentric memory, territorial demarcation, nationalism and Western human rights. 
The detonator for my projects is always autobiographical, always political. Everything comes from an itchy discomfort, from the beauty of externalizing my pain as part of my spiritual practice, from the reappropriation of my flesh. 
The detail attracts me. It's an invitation to immerse in my installations, in my fiber paintings and in my drawings. In the details I find (and lose) myself. I spill in them my erased history, my silenced ancestors, the stigma of my blood flow, and my abortion. I am a detail in a set of knitted, drawn, embroidered and sculptured bodies. Bodies that build themselves as protagonists, that take space from their pain or release. The textile techniques I use and the color I choose talk about corporality, skins and blood. At the same time the textures suggest land, terrain. 
My ceramic pieces carry a hardness that oppose to the vulnerability and action of the body. Both techniques are present in cultures that were targets of epistemicides in Latin America and Perú.
My work is inspired by womxn's bodies resistance to the structures of oppression imposed by the white supremacist extractivist hetero patriarchy. Women who stain in red in the face from the shame imposed on our fluids, bodies that abort in scenarios of illegality, bodies that have been mutilated, womxn that preserve their memory, womxn whose priorities resist the power of neoliberalism, who are invulnerable to white masculinity. They are the custodians of the memory of resistance, they are my guides to realize, with my projects, magic by analogy. 
"Clandestinas" portrays the emotional stage of being pregnant with an unwanted being in a context like Lima, Perú, where abortion is illegal. Two materials confront each other in a moment of tension and overwhelm weight.
Artist Bio:
Romina Chuls is a Peruvian feminist artist/artisan. She holds a Bachelor in Fine Arts with a major in painting from the School of Art and Design of the Pontificia Universidad Católica of Peru. Romina complemented her training with several Peruvian pre-hispanic textile courses, such as brocade weaving, Paracas ringed knitting and backstrap weaving. Later, in 2017, she learned Mexican embroidery during a residency at Arquetopia, in Oaxaca, Mexico. In 2018 she started a 9 month residency at Textile Arts Center and in 2019 another one at Gasworks, both located in New York City, USA.  
In 2017, Romina had her first solo exhibition entitled "Tierra Incógnita" (Incognito Land) in Lima, Peru, sponsored by the Euroidiomas Foundation prize. She has also participated in several group shows in cities across Peru, including Trujillo, Chiclayo, Huaraz and Lima. Internationally, her work has been shown in Santiago de Chile (Chile), Cholula (Mexico), Rio de Janeiro (Brazil) and New York City (USA).
Romina has lead embroidery workshops as part of her
"Qué rico menstruo"
movement and project in the cities of Lima, Oaxaca and New York.