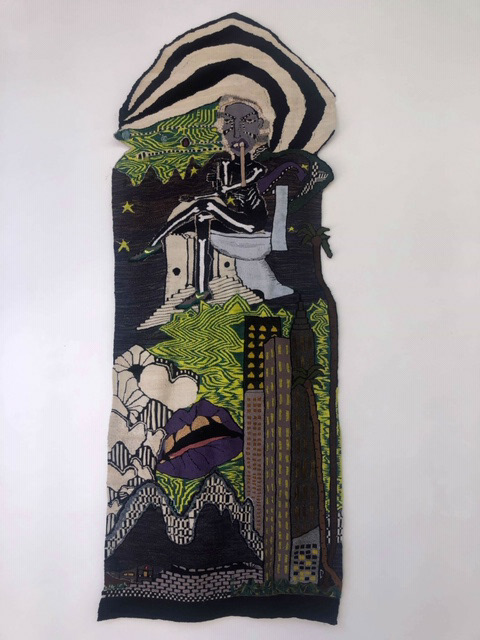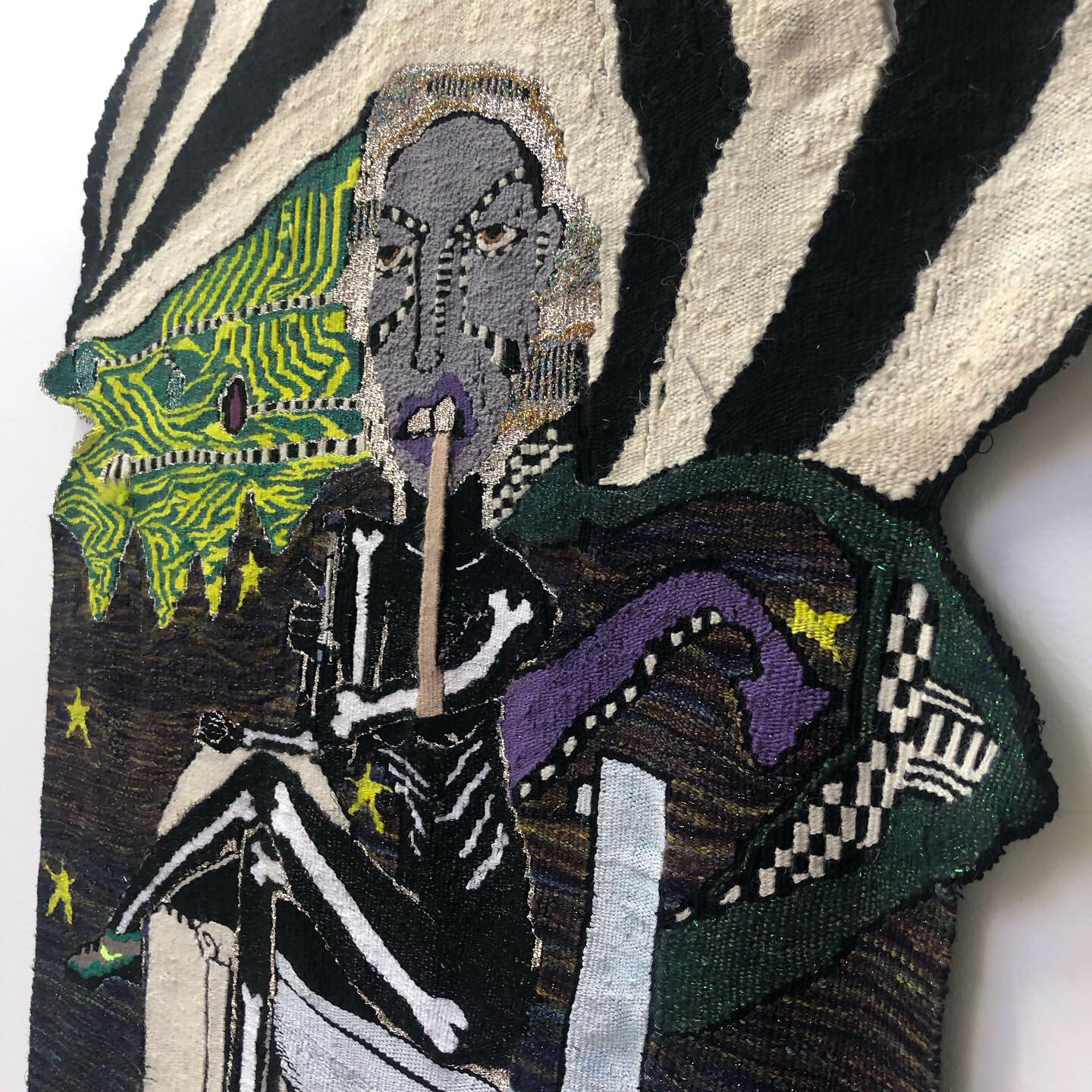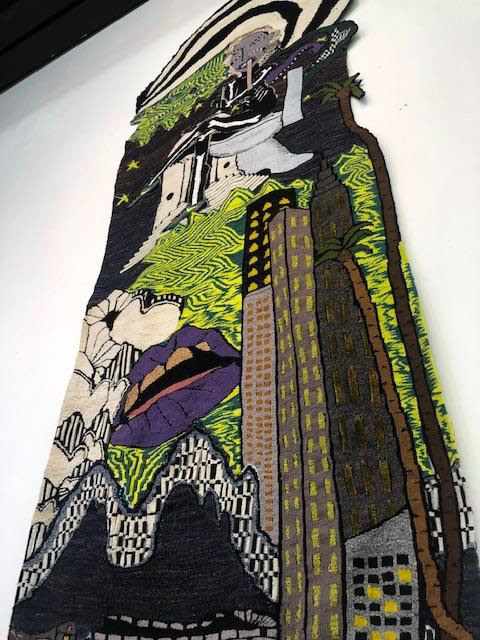 3 AM
, Hand-Dyed wool, merino wool, cotton, linen, metal, feathers, and sequins, 2019
Artist Statement:
I create tapestries from my gut. I present my narratives through mixed media tapestry. I learned only the basics of tapestry in college a decade ago and fell in love with the art form. Since then, I have been almost entirely self-taught by trial, error and taking risks. I had a live-work space in Oakland, CA where I was working from two-floor looms and now I do the same thing living in Brooklyn, NY.
In my work, I use many discarded things I have picked up on the street in the cities of Oakland and New York. I incorporate those items such as human hair, clothing, and plastic trinkets into my tapestries in order to bring the world I see together in front of me. A long time ago street art was my groove and it definitely manifests itself in my style of translating contemporary memories and urban stories I've been through and heard. Street art has surrounded me since day one and is my most important visual springboard. 
I am a storyteller to the bone. After coming from a sculpture background in ceramics, the materials in my tapestries have a three-dimensional quality in their shape and texture. Currently, the themes of my work deal with addiction, mental illness, class, redemption, feminism, salvation, and gritty beauty I witnessed trying to maneuver my way through the fog of poverty. 
I have been researching and have started to make work on the policing and misdiagnosis of humans who suffer from the disease of addiction and mental health issues in the United States today.
Artist Bio:
Dance Doyle is a Brooklyn and Oakland based artist. Born and bred in Oakland during the 1980's and 1990's. She witnessed a gritty beauty that emerged in Oakland after the crack epidemic had torn through it. It was the graffiti, urban decay, and in the music that flowed through the streets connecting her broken community which was inspiring her.
Dance's background was 13 years of ceramic sculpture with hand-building. Then, in 2005, when she was attending San Francisco State University, she took a textiles course. During the semester, the class spent two weeks on tapestry weaving. Those two weeks flipped her creative thinking and major. She felt reborn. With tapestry, she was then able to have full control over the images in her work. As a tapestry artist, Dance is a painter, just with dyed fiber. Her tapestries look similar to her drawings, pulling all designs from her crowded head. She sees the images in her warp and has never used any cartoons as an aid.  
Through the years, she has been self-taught, developing her own technique and edgy style. Her primary focus has been telling contemporary narratives, based on stories told to her that reflect, piece by piece, examples of our human condition in these overpopulated urban environments.  
Dance served as vice-president of Tapestry Weavers West, is a member of the American Tapestry Alliance and the Textile Arts Council at the De Young Museum in San Francisco, CA. Her work has been displayed at the Legion of Honor Museum and the De Young Museum in San Francisco, then at the San Jose Museum of Quilts and Textiles along with being featured in many well-known galleries nationally. In addition, during the spring of 2018, she was invited to be in a two-person show, Fiber Fiction, at The Compound Gallery in Oakland, CA.
Dance just finished an Artist In Residence at the Textile Arts Center in Brooklyn, NY. In January of 2020, Dance will be and Artist in Resident at the Vermont Studio Center in Johnson, VT.